A word from the President
While the world is going through a phase of political and economic instability of rare intensity, Africa and Europe are natural partners who count on each other to create sustainable and beneficial growth for all. Today, the European Union is Africa's main trading partner, accounting for 30% of its trade. That gives Europe an important responsibility as a partner in the development of the African continent.

Agriculture is a forward-looking sector in Africa, and should be a priority for European investment on the continent. Through the banana sector, Afruibana is leading the fight for the whole continent for competitive and sustainable agriculture, job creation and the integration of young people into economic and social life.
A delegation from Afruibana at the European Development Days (EDD)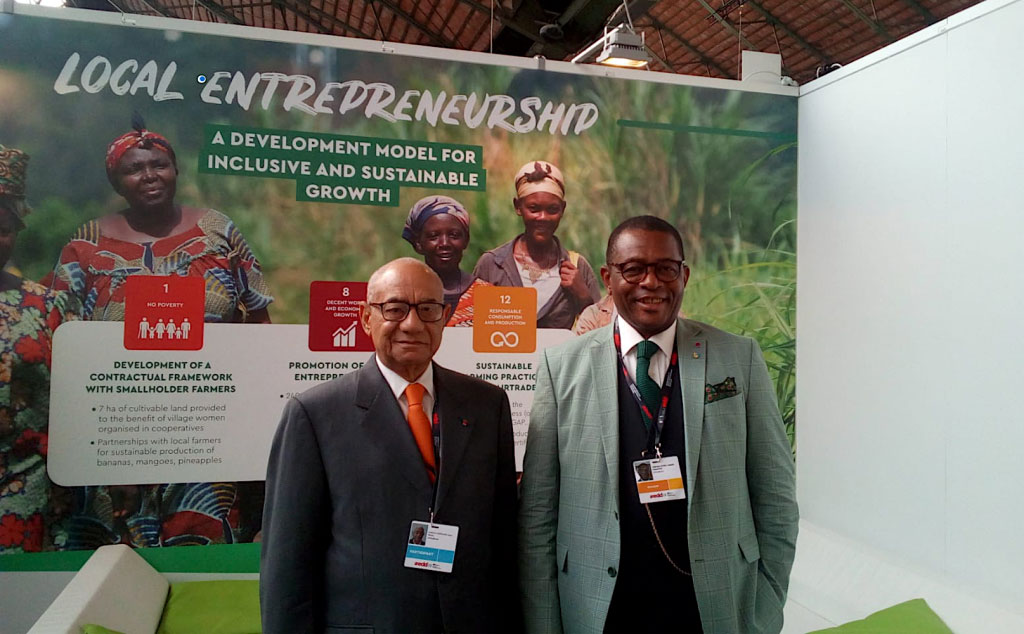 On 18 and 19 June, the European Development Days (EDD) took place with the theme of this 13th edition being the fight against inequality. The Afruibana delegation - composed of Mr. Owona Kono, President of Afruibana, and Jean-Marie Kakou Gervais, Vice-President of Afruibana - was present to share the banana industry's experience in this field and in poverty reduction.

The theme of the 2018 edition was "Women and girls at the forefront of sustainable development". Among the many sessions organized on this theme, the OCP Group organized a roundtable to discuss how innovation and sustainable agriculture are key tools for reducing gender inequalities in Africa. Mr. Owona was invited, given his expertise on African agriculture, to take part in this round table. At his side were various experts like Dr. Agnes Atim Apea and Charlotte Libog.
During the session, Mr. Owona focused his speech on the policies to be put in place to promote the inclusion of women in the agricultural sector and in particular in agribusiness. He believes that if Africa creates sufficient economic conditions to enable farmers - including women - to operate as entrepreneurs, Africa will be able to feed not only its people but also the rest of the world.
As a reminder, women represent more than 50% of agricultural workers, and are responsible for about 50% of the work on farms in sub-Saharan Africa. According to various reports, they would even produce between 60 and 80% of the continent's diet.
Despite the work done and the important role women farmers play in the agricultural sector in Africa, they still have fewer rights and fewer opportunities than men. An unfair situation, which is also a drag on the continent's economies.In addition, Mr. Owona Kono, President of Afruibana, was invited to speak at a panel discussion on "Adressing inequalities and building a local Africa leaving no one behind" on June 18.
In his presentation, Mr. Owona Kono provided an overview of inequalities in Sub-Saharan Africa. He recalled that measuring inequality in Africa was complex, if only because of the difficulty of data collection. In its last report, however, in September 2018, UNDP described a diversity of situations within the continent that undermines the reductive idea of a homogeneous Africa condemned to stagnate at the bottom of the pack.
Nevertheless, the significant growth experienced by the African continent since the early 2000s has not resulted in an improvement in people's well-being. GDP per capita in Africa is less correlated with welfare indicators than the world average. However, poverty reduction requires the reduction of inequalities.
As Afruibana members are located in rural areas, Mr. Owona Kono wished to draw attention to the fact that approximately 380 million people will enter the labour market by 2030, including approximately 220 million in rural areas Sub-Saharan Africa in the coming decades is to generate enough jobs to absorb this growing labour force.
"This is my fight with Afruibana: the fight against territorial inequalities in Africa can be won by enhancing rural areas and facilitating the development of local industries, such as those of African bananas and other fruits"
Representing nearly 80,000 direct and indirect jobs in Cameroon, Ghana and Côte d'Ivoire, the banana sector is a significant vector of development for African rural communities. Faced with the demographic challenge, it is an important source of job creation in rural areas. In these rural areas, banana plantations are not islands of wealth in an ocean of poverty, but the heart of an ecosystem that benefits all the surrounding populations with significant investments in infrastructure (hospitals, schools) and human capital (employee training, promotion of female employment).
In order to contribute to the economic development of production areas, large companies in the sector participate in the development of local SMEs and small farms through two axes: the promotion of entrepreneurship with a strong focus on the agri-food sector and the development of a contractual agricultural framework with small local producers.
Nevertheless, all these different concrete projects for African development are largely linked to European decisions. Indeed, with more than 80% of its exports destined for the European market, the African banana sector still depends heavily on the choices made by the European Union in terms of trade policy and development aid.
In Zimbabwe, research has shown that where men tend to prioritize maize as a cash crop, women plant a wider variety of crops and market them. Similarly, the involvement of women in plant breeding in Rwanda and parts of West Africa has improved the diversity and performance of bean varieties. Encouraging women to participate in agriculture as entrepreneurs, thus stimulates the agricultural economy as a whole.
At the round table organized by the OCP group, Mr. Owona Kono came back on three key elements, to advance this transformation: land, education and finance.
Banon has been operating in the banana sector for many years and lastly cited several examples of initiatives taken to ensure the empowerment of women in Cameroon and Côte d'Ivoire: training, capacity-building, implementation childcare facilities, working time management for pregnant and lactating workers, competitive salaries, equal promotion opportunities and salaries.